St.Michael's Convent
History of St.Michael's Convent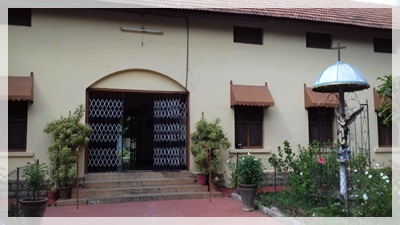 St.Michael's Convent was founded in the year 06.01.1922. It was blessed on the feast of Epiphany by Late Bishop Reocseud D'Teissier. The community was formed with 4 sisters namely:Mother Mary of St.Paula Nagel, Sr.Mary Bernard, Sr.Mary Imelda and Sr.Mary Odilia.
Mother Mary of St.John was the first superior. The land filled with trees, shrubs and anthills. The sisters with the help of workers cleared the shrubs and they dug three bore wells in three years time and started cultivation, weaving yeards etc. The community is named after the archangel St.Michael. 29th Sept is celebrated as the Community day, the feast of St.Michael. Over the years St.Michael's convent has taken different shapes, adhering to the needs of the times and several sisters have rendered their service to the needy and deserving babies, children, women and single mothers.
Present community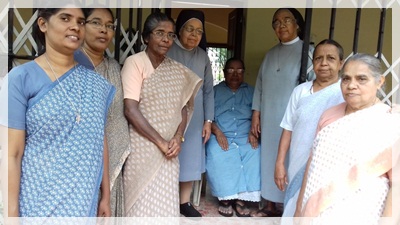 From left to right: Srs.Alphy, Kalaiselvi, Shantha Shivaram (Community Leader), Genevieve Varghese, Carmal Pias, Mary Alice Kanjiraparambil, Martha Martis & Fidelis D'Cruz.


Activities at St.Michael's Convent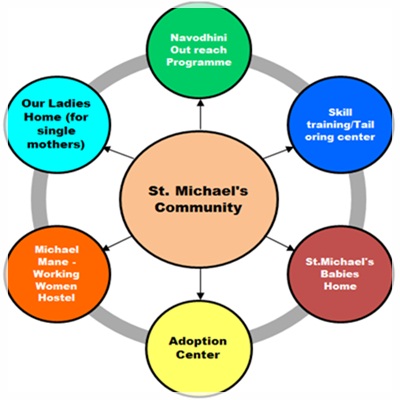 St.Michael's Home is a Charitable Institution Registered under the Mysore Societies Registration Act No.III of 1904, the Reg.No. is S.2092/58-59. The Institution neither works for profit nor is it supported by the Government. It has one aim to bring dignity and self worth to people who are less fortunate especially children, girls and women irrespective of caste, language, class and religion.


St.Michael's Babies Home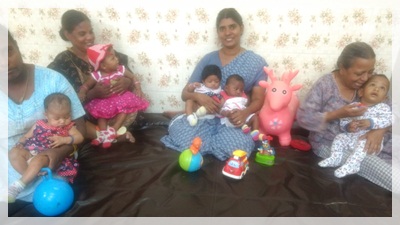 St.Michael's Babies Home, Primarily shelters, gives care and protection to babies and children (below the age of 0 - 6 years) who are abandoned or relinquished by single mothers, deserted women, who are unable to take care of their child/children due to various reasons like economic, social and health problems. We receive babies from Nursing Homes, Hospitals, babies transferred from other institutions; they are all referred through Child welfare committee (CWC). We have one sister in-charge of babies and committed staff to care of them. They are taken for regular medical check-up. Babies with special needs and health issues are catered with at most care. They are given in foster care and adoption as per the CARA guidelines.
Adoption Center

Our main aim of adoption is to provide a happy home and loving parents to every child.
Central Adoption Resource Authority (CARA) guidelines:
A new set of guidelines were given by the Central Adoption Resource Authority (CARA) in Delhi. It states that Adoption agencies are not allowed to match children with parents. All process has to be done online. Registration of parents and uploading of their documents are done online by the parents and we do the home study of the (PAPs) Prospective Adoptive Parents and upload the same in the website. We also have to upload the documents and photos of children. CARA will match the children according to seniority wise from all over India. As per CARA, we have formed Adoption committee consisting of 5 members of the Agency, including one member from the DCPO's office.
Navodhini Out Reach Programme

Navodhini Project was started in the year 1995 for the purpose of educating the economically poor children and empowerment of women, girls and their families in the slums.
Our working areas are: Seegehalli , Uttarahalli &Vijinapura. Activities:
a. Coaching Classes for children from the slums.
b. Skill Training for women and girls in Cutting and sewing.
c. Social Work in seven neighboring villages around Uttarhalli area.
d. Balawadi for children between 4 - 6 years.

Skill Training and Tailoring Center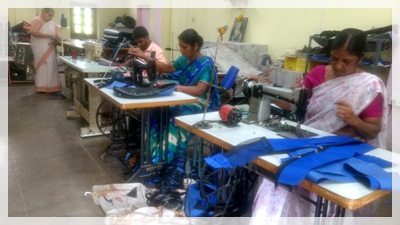 Our Skill Training Program started for young women and girls who could be trained in cutting and sewing and become economically independent. Along with skill training, we also undertake orders for stitching of Bags, house coats, Nighties, skirts etc., the center is equipped with trained tailors. We have one Sister in-charge and two staff at the center.


St.Michael's Mane (Working women's Hostel)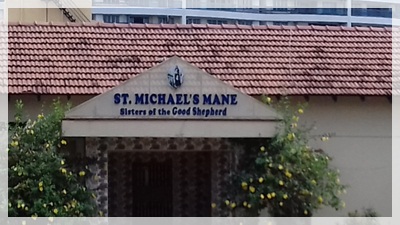 The Goal of St.Michael's Mane is to ensure the safety of young working women and girls who are migrating to the city in search of jobs, to avail training or pursue their higher studies. During their stay at Michael's Mane, they are imparted with Gospel values of Compassion, Love, acceptance & sharing.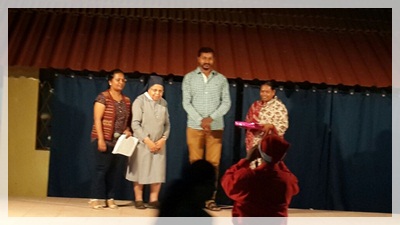 Our Objectives is to provide residential facilities and to promote moral & social values among the inmates irrespective of caste, creed & race or religion. They are involved in the activities of the hostel such as Conduct meetings when required and discuss about discipline & daily life in the Hostel, quality of food, cleanliness, Birthday /Feast day and national festival celebrations etc. They live in 3 bedded, 4 bedded spacious rooms. There are 2 bedded (12) self-contained rooms. At present there are 49 hostilities.


OUR LADY's HOME (Residence for single mothers)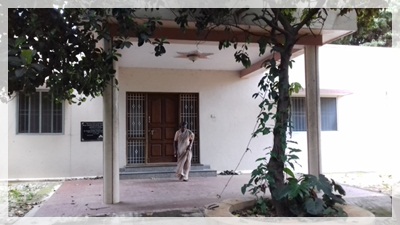 Our Lady's home (OLH) named after our Blessed Mother Mary, caters to the needs of single mothers, who are exploited sexually, socially rejected and ostracized by the family and society. The compassionate and Merciful love of Jesus the Good Shepherd is expressed to the women and girls who get involved in extra martial relationship and found to be pregnant, are admitted in Our Lady's Home. The main aim of the home is to give care and protection to women and girls who become pregnant outside of marriage. They are accommodated at any stage of pregnancy. They are taken for regular Health check-up and delivery to St. Martha's Hospital. They are also encouraged to take their babies along with them, if they wish. Some mother does take while other surrender their babies to Child Welfare Committee. During their stay at OLH, they are given counseling to overcome their confusion, despair and trauma. They are also prepared and helped to return to their families, live in the society as responsible and resourceful citizens. They are given opportunities to develop their talents, through gardening, knitting, tailoring etc.

Conclusion:
We were able to fulfill our mission with the help of our Mission Partners, donors and friends whose friendship and continuing support we greatly cherish. We hope and pray that their valuable time and support will be extended in our future endeavors. We acknowledge and thank all our benefactors who extend their generosity by sharing their valuable time and committed service. May Jesus the Good Shepherd, St.John Eudes and St.Mary Euphraisa Bless them all.


LOCAL LEADERSHIP
Sr. Valsa Varkey – Local Leader
St. Michael's Convent,
#35, 80ft Road,
Bangalore 560038, Karnataka.
Ph. No: 080 25282811
E-mail: st.michaelshome@gmail.com